Obituary for Laura Rose "Cookie" Wascha
WASCHA, Laura Rose "Cookie" of Grand Blanc, Michigan, died on June 12, 2017, at the University of Michigan Hospital in Ann Arbor. She was born Laura Rose Holt on November 1, 1945, but you wouldn't know that by looking at her driver's license. When she moved to Michigan in the late 1960s, the lady making her new license refused to believe the corrected typo on her old one, reading her middle name as 'Ross' instead of 'Rose.' "You're not gonna go changing your name in this office," she was told. So for the last 50 years, her license said Laura Ross Wascha. She just went with the flow. That was our Cookie.
She was born on the beloved Holt family farm in Milburn, Kentucky, to Ann Morris Holt and Warren Cranston Holt. When she was 4, along came a younger sister, Dr. Sally Chaney (husband Glen), whom she adored. Cookie's eyes would twinkle when she described her happy childhood. Starting around age 10 or so, she and Sally would help their mother after school up at the Tubby's No. 2 truck stop diner on Highway 51 in Arlington, where Ann was working her way through beauty school. One day, Cookie saw a fancy Cadillac pull in with an entourage of folks behind it. Out stepped a man traveling from Chicago to Memphis, Tennessee. Cookie's mom saw the group and told her she could wait on this table. The one and only Elvis Presley was sitting there. He ordered a cheeseburger and fries, and gave Cookie a $5 tip to "go play something on jukebox." She did - all Elvis songs, of course. She wishes she had kept that $5, but hindsight is 20/20. And to be honest, you don't really think that straight when you're serving a cheeseburger to Elvis.
From the very beginning, she was known as "Cookie," nicknamed by her mother after Dagwood and Blondie's baby in the Blondie comic strip. Kind of fitting, really, since newspapers eventually would become such a big part of her life. After graduating as salutatorian of Carlisle County (KY) High School in 1963, Cookie went on to Murray State University (KY) and the University of Missouri, where she earned a Bachelor's Degree in Journalism. In college, she served as Editor of the MSU College News and went on to work as a copy editor and reporter for newspapers throughout the country, including the Mayfield (KY) Messenger, Henderson (KY) Gleaner-Journal, North Kansas City (MO) Star, the Columbia Missourian and The Flint (MI) Journal.
In Flint, she was a copy editor, reporter, food editor and restaurant critic before being named Tempo Editor (features department), a position she held until her retirement in 2008. During her career, she interviewed everyone from a man in Cairo, Illinois, who couldn't read or write, to Joan Crawford, Bill Cosby, Loretta Lynn, cardiac pioneer Dr. Michael DeBakey, Jerry Stiller and Anne Meara, Malcolm X, John Howard Griffin and Dr. Seuss. Her writing and leadership led to various awards, including Best Writing for a Feature Story, Best Headline Writing, Best Features Section and more. One thing you should know is that she treated that illiterate man with as much kindness and respect as she did any of the celebrities she interviewed. That was our Cookie.
Not long after her arrival in Michigan, she met attorney Don Wascha. He wooed the Southern belle with a scotch, and the rest was history. He always said she proposed to him. She disputes that. On April 4, 1970, in Fancy Farm, Kentucky (it's a real town), she and Don were married. She spent the next 47 years laughing at every one of Don's jokes as if it were the first time she'd heard it. It wasn't. Perhaps the maddest she ever got at Don ("livid," she'd say) was when he convinced her he had sold her prized 1968 Ford Galaxie 500 convertible for $50. Secretly, he had it hidden below a building in Flint for a year while it was being restored - an unveiling that led to immediate forgiveness and sincere appreciation. That was our Cookie.
In 1971 - she swore she got pregnant the same day she stopped taking The Pill - Don and Cookie's first child, Amy, was born. She grew up to be a spitting image of Cookie (pure sunshine in her smile, just like Mom). Son Chris was born in 1976 and grew up to look just like Don (minus the jokes). Chris and wife Christina (Ragnone) went on to have the three greatest joys in Cookie's life: CJ, Callie and Cole Wascha. Time spent spoiling her grandkids, especially during annual family vacations in Florida, was her favorite.
In addition to her immediate family, Cookie leaves in-laws Al and Dee Arnold, Bob Wascha, Tom and Joan Wascha, Jim and Sue Wascha, many wonderful nieces and nephews, and hundreds of friends. When you met Cookie, you became her friend. She had a way of making you feel like you were the only person in the room. She was interested in you. She wanted to know and understand your story. At her house, you ate off her nicest plates, with real silverware. You mattered to her, and she made sure you knew it. That was our Cookie.
In addition to her journalism career, Cookie served as director of communications for 42 libraries via the Mid-Eastern Michigan Library Cooperative from 1971-76, during which she won a national John Cotton Dana Award from the American Library Association. She worked in communications for Flint Community Schools from 1977-79; edited and published two cookbooks; edited several books by Flint Journal columnists; and wrote for Data Diva in St. Louis, Missouri, and Ohno Design in Bay City.
She was a member of Kappa Omicron Phi (home economics), Alpha Omicron Pi (social) and Sigma Delta Chi (journalism). Causes important to her included the Friends of WFBE Radio, YWCA of Flint, Junior League of Flint, Kaleidoscope Day at Crossroads Village, and political campaign work.
Cookie was kind. She was generous. She was courageous and forgiving. She was proud of her Southern roots. She hid cigarette butts in her laundry detergent bottle so Don wouldn't find them. She was funny and adventurous. She always drank beer from a glass like a lady. She sometimes swore like a sailor. She loved yoga, scrapbooking, the beach, gardening, golf, Kentucky author Bobbie Ann Mason, massages, playing dominoes, entertaining, music, cooking, laughing, Kentucky Wildcats basketball, University of Michigan football, and being a Democrat. And she treated the company janitor the same way she treated the CEO.
That was our Cookie.
Visitation will be held on Friday, June 16, from 2-5 p.m. and 6-8 p.m. at Sharp Funeral Home, 6063 Fenton Road, in Grand Blanc. The funeral will be held Saturday, June 17, at 11 a.m., with visitation from 10 a.m. until the start of the service. Burial will follow at New Calvary Catholic Cemetery, 4142 Flushing Road, in Flint. Those desiring to make an expression of sympathy may consider a donation to the YWCA of Flint, The Loeys/Dietz Syndrome Foundation, or St. Jude Children's Research Hospital.
Previous Events
Visitation
Sharp Funeral Home & Cremation Center
6063 Fenton Road
Flint, Michigan 48507
Visitation
Sharp Funeral Home & Cremation Center
6063 Fenton Road
Flint, Michigan 48507
Visitation
Sharp Funeral Home & Cremation Center
6063 Fenton Road
Flint, Michigan 48507
Funeral Service
Sharp Funeral Home & Cremation Center
6063 Fenton Road
Flint, Michigan 48507
Cemetery Details
Location
New Calvary Catholic Cemetery
4142 Flushing Road
Flint, MI 48504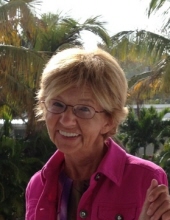 Thank you for sharing your
memory of Laura
Provide comfort by sending fresh
flowers from our local florist.
No thanks, please don't show me this again.